Venue
MARSS2022 will be held on the main campus of the University of Toronto, which is in downtown Toronto. The University of Toronto (UofT) was founded in 1827, and is the largest University in Canada with nearly 100,000 students at our three Toronto-area campuses.
The conference will be held in the Myhal Centre for Engineering Innovation and Entrepreneurship (building MY), at 55 St George St. Built in 2018, the Myhal building is the home of multidisciplinary engineering and science programs at UofT. This includes the University of Toronto Robotics Institute, which is launching Canada's first graduate specialization in Robotics this year. The welcome reception on Monday evening will be held in the Robotics Institute on the fifth floor, while Plenary talks will be held in the premier lecture hall on the first floor.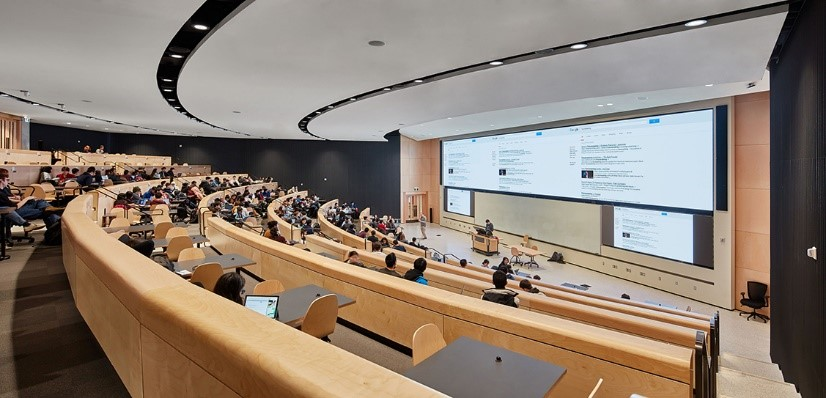 Parallel sessions will be held in the Bahen Centre for Information Technology (building BA), which is across the street from Myhal.
Access to MARSS 2022 venue
MARSS2022 is located on the University of Toronto campus in downtown Toronto. The conference registration is in the Myhal building at 55 St. George St.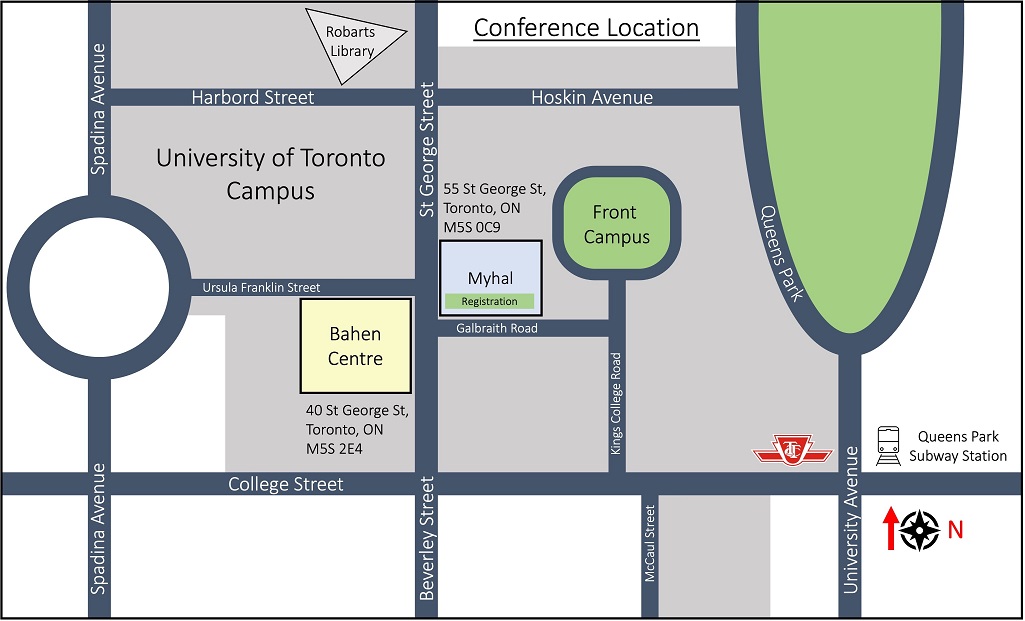 Venue Map
The conference location is split between two buildings. Events on the schedule are colour coded blue or yellow for the two buildings.
Registration, Plenary sessions, afternoon coffee, and the exhibition will be in the Myhal Building.
Parallel sessions, mid-morning coffee break, and lunch will be in the Bahen Centre.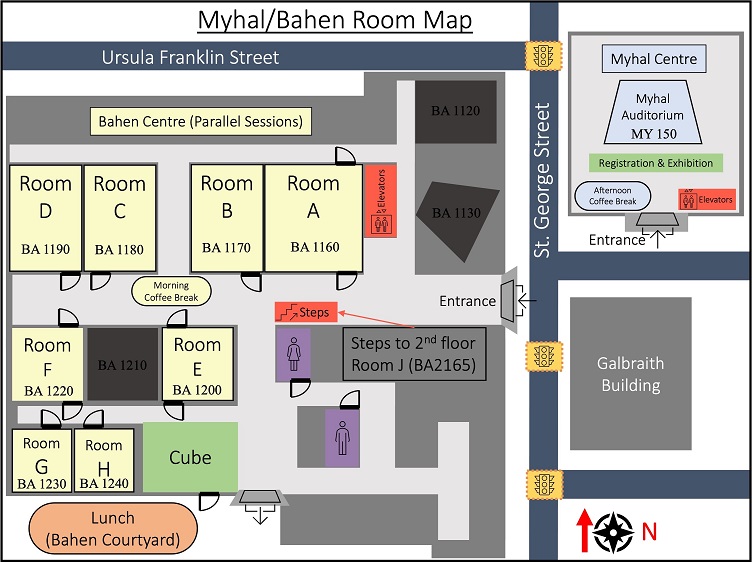 Banquet Map
Travel to the banquet will be self-directed. You can walk, take the TTC Subway, or take a taxi/uber. The banquet is located at Steam Whistle Brewery, which is at 255 Bremner Blvd., inside the historic railroad roundhouse across the street from the CN Tower.
Walking (35 minutes): From the Myhal building, head south on St. George St and Beverley St. After passing the Art Gallery of Ontario on your right, cut through Grange Park to join John St. This will take you across the railroad tracks and by the CN Tower.
Subway (30 minutes, $3.25): This route cuts the walking time in half. Take line 1 (yellow line) from Queen's Park station to St. Andrew Station. Then walk along University, Front St and Simcoe towards the CN Tower.